Your Peace Of Mind Factory Warranty
So confident are we that our caravans will stand the test of time, Crusader offers a two-year factory backed national warranty on every single one of our caravans and a 5 year structural warranty.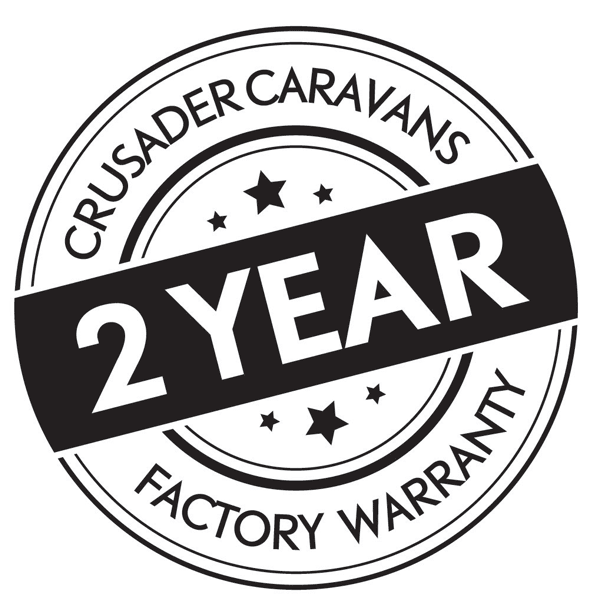 Each Crusader caravan undergoes stringent quality checks all the way through the manufacturing process and delivery to you to ensure a trouble free and enjoyable caravanning experience. However should an issue arise, the Crusader factory warranty and our dealer network are here to assist.
Crusader manufactures the body of the caravan and the furniture and ensures that all systems relating to electrical, plumbing and gas supply are installed correctly. The workmanship carried out by Crusader is second to none.
Crusader warrants the items we manufacture. Each supplier warrants major components such as the appliances and the chassis separately as they have the expertise in relation to their products.
Caravans are complex as they incorporate a number of major items provided by other manufacturers with the skill set to design and manufacture those items. Chassis, suspensions, televisions and refrigerators for instance are manufactured separately and carry their own warranties. Crusader installs every item in accordance with the respective manufacturer's instructions.
Your warranty commences on the day you receive your new caravan and in the event that you require assistance, all warranty repair work that has been approved by Crusader and carried out by an authorised repairer is free of charge to you.
To expedite a successful outcome where assistance is required, your first contact should be your selling dealer who will advise you on your course of action. You can contact the factory by completing a Warranty Claim Form in detail and with photographs attached, forwarding it to warranties@crusaderbrisbane.com.au . You will be contacted promptly during business hours by our Customer Relations team.
Our warranty conditions do not cover abnormal wear and tear so you should ensure that your caravan is used only for the purpose intended.